Help us protect your valuable information from identity thieves by using our SecureFile Pro portal to send and receive tax documents and other confidential information.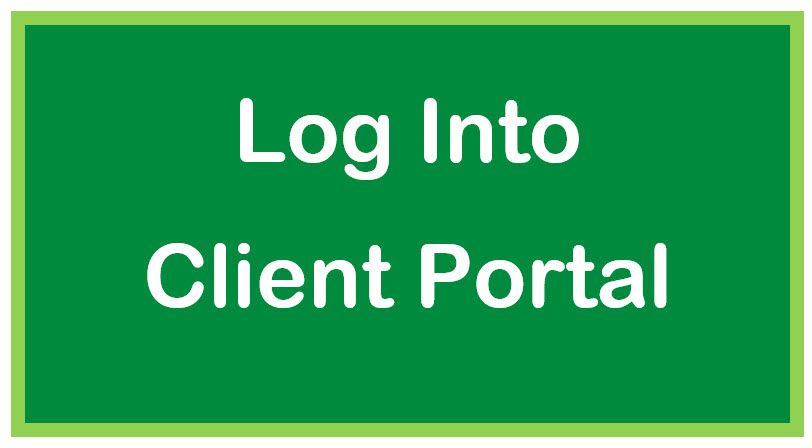 Instructions - How to create your portal
Our staff must create a user for you within SecureFilePro.  You will receive an email from SecureFilePro after we have created a user ID for you.
Read the welcome email from SecureFilePro, click on the link in the email to access you Portal.
The Portal will ask you to enter the last four digits of the SSN or EIN. (Note: if you are filing a joint tax return, use the last 4 digits of the SSN that belongs to the taxpayer who's name is listed first on the tax return.)
Create a password for your account. The password must contain an upper case letter, a lower case letter, a number, and a special character (such as !, #, $, etc.).
Click the Submit button. The Sign In screen displays.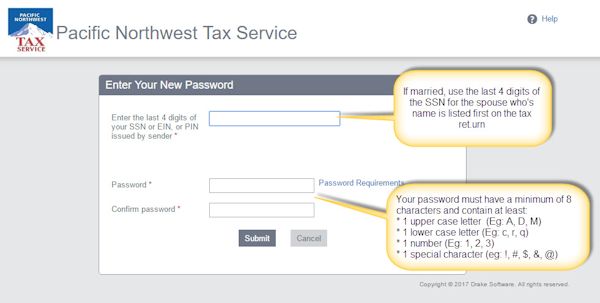 Next step - Sign In to your portal
From the Sign-In screen - enter your username and the password you created, then click the Sign In button.
You can always return to the Sign-In screen by clicking on the Login button on the top left hand site of our website at www.pnwtax.com
Downloading documents from your preparer
Sign In to your portal.
Look for the My Folder menu on the left side of the screen.
Click Documents from Preparer.
In the right window, your documents should appear. Click the Download link for a document.
Select to open or save the file.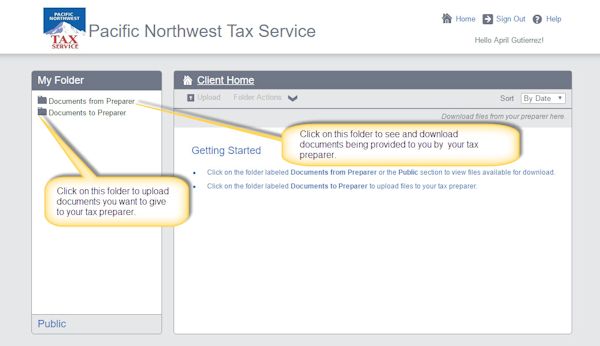 NOTE: Tax return documents loaded into your portal by your tax preparer may be password protected.  The password you use to unlock these documents is the last 4 digits of the primary taxpayer's SSN, and not the password you use to enter the portal.
If you select Save, follow the normal procedure you use when saving a file to your computer.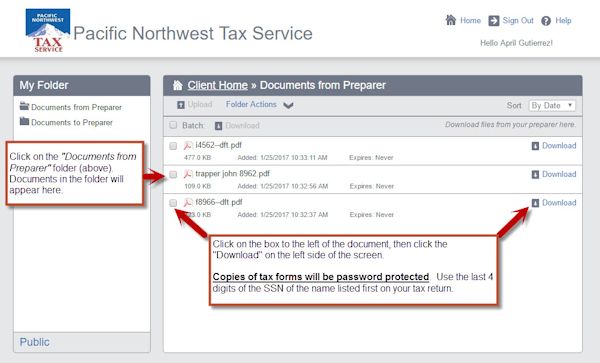 To submit a document to your preparer:
Click the Documents to Preparer link under the My Folder section.
In the right window, click the Upload link.
Click the Select button to search for the file you would like to upload.
The file should display under the button. Click the Upload button.
The file will display in the right window. You have the opportunity at this time to rename or delete the file if necessary.
Your preparer will be notified that a file is ready for downloading from you.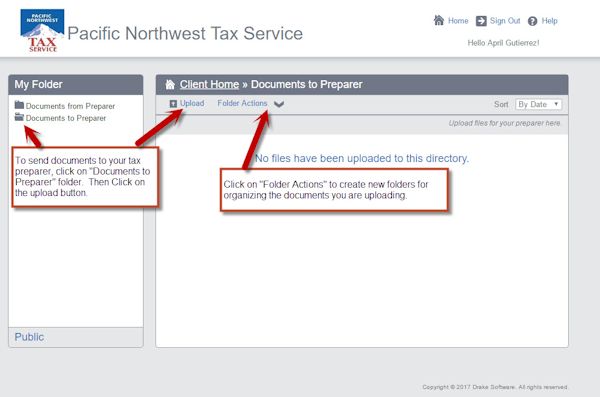 Returning to the Portal
After initial setup, you can return to the portal at anytime by clicking on the link in the upper right-hand corner of Pacific Northwest Tax Service's website at www.pnwtax.com.  
If you have any questions, please contact your tax preparer.