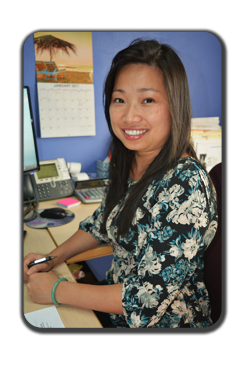 Accounting & Payroll Specialist
Oregon Licensed Tax Consultant
Certified Quickbooks Pro Advisor
B.S. Portland State University
Heather Hua received her bachelor of science degree in accounting and finance from Portland State University in 2006. Her demanding double-major program equipped Heather with detailed knowledge, interest and experience in accounting and financial matters.  
While attending Portland State University, Heather worked as an office manager and senior accounting intern at the university Business Outreach Program. She worked with clients to produce timely financial data, set up accounting systems and internal financial controls, conduct staff training, and to carry out cash-flow management and other accounting matters. She also mastered the technical and analytical aspects of using QuickBooks software. While working in this program, Heather enjoyed personally interacting with clients, and assisting them with developing and implementing solutions to their accounting, bookkeeping, tax and QuickBooks issues.
Her interning experiences, coupled with her accounting and finance degree studies, more than readied Heather for entering the accounting field after graduation, and have proven to be valuable strengths since joining the staff of Pacific Northwest Tax Service in 2006. 
As a Senior Accountant and Tax Consultant at Pacific Northwest Tax Service, Heather provides bookkeeping and payroll services to a wide range of clientele. She became a Certified QuickBooks ProAdvisor in 2007. In  2007, she completed Pacific Northwest Tax School's rigorous 80-Hour Tax Course, and successfully passed Oregon's LTP exam. She became an LTC in 2013.  Her LTC credential furthers the detailed working tax knowledge she offers her clients.
Heather has been a member of Beta Alpha Psi since 2004, and member of Beta Gamma Sigma since 2005. In 2006, she was a recipient of the President's Award for Outstanding Community Engagement.   
Heather spends most of her free time with her family. Her favorite hobbies are reading, watching movies and traveling.