All offices are open year-round. Office hours vary by location and time of year.
IMPORTANT UPDATE: Due to the Corvid 19 pandemic, the filing deadline for 2019 federal tax returns and payment of tax owed for 2019 returns is extended until July 15, 2020.
Our staff will continue to provide tax preparation, payroll and bookkeeping services, within a Monday - Friday, 9am - 5pm work schedule. 
You may drop your tax documents off at our offices or upload them to our secure portal.  You may also use a delivery service to bring us your documents.
Eastside Office — Hollywood/Lloyd District
Phone: (

503) 288-2000
Address: 

2730 NE Broadway St., Portland, OR, 97232
(Located between Pets on Broadway & Northwest Women's Fitness Club)
Parking: Free and easy parking is available as follows:
Street parking in front of our office and across the street from our office
Two parking spaces behind our building. Driveway access to our parking can be seen in the picture shown here. Be careful to enter our steep driveway slowly.
In the residential neighborhood behind our office.
Click here for directions to our NE Broadway Office
Broadway Office Hours — January 27 - April 15

Monday - Friday
9:00 am - 5:00 pm
Saturday
Closed
Sunday
Closed
Broadway Office Hours — April 16 - January 26

Monday - Friday
9:00 am - 5:00 pm
Saturday - Sunday
Closed
Westside Office — Cedar Mill Neighborhood
Phone: (

503) 646-5600
Address: 13405 NW Cornell Rd., Portland, OR 97229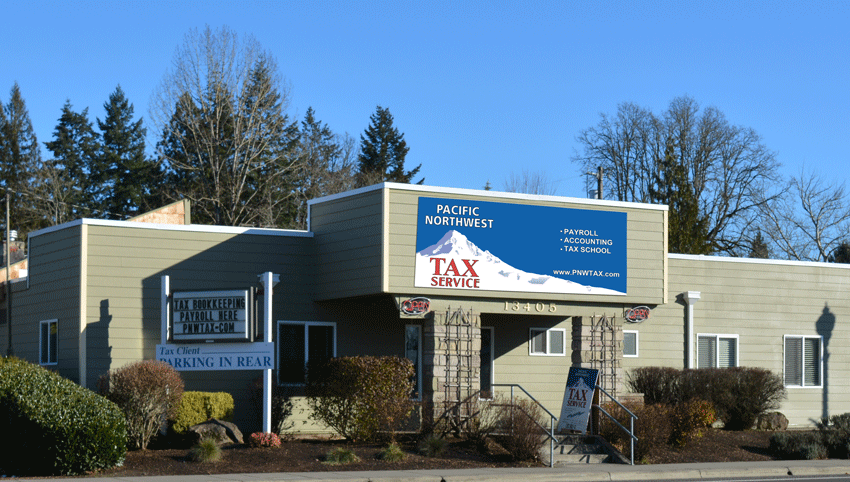 (Located at the intersection of Cornell and Murray off Hwy 26. We are next to Jiffy Lube)
Parking: Our parking lot is behind our building and is accessed via Joy St.
*Note: left-hand turn access to our parking lot is blocked by a median strip.  Follow these easy instructions for left-hand access to our parking lot:
From the intersection of NW Cornell and Murray, drive two blocks east and turn left on Dale
Travel one block north on Dale, then turn left on Joy.
Joy will curve left, towards Cornell. Our parking lot is on your right, immediately before Cornell.
Click here for directions to our Cedar Mill Office
Westside Office Hours — January 27 - April 15

Monday - Friday
9:00 am - 5:00 pm
Saturday
Closed
Sunday
Closed
Westside Office Hours — April 16- January 26

Monday - Friday
9:00 am - 5:00 pm
Saturday & Sunday
Closed